Synergy Audit online workshop event
22 August 2022 at 13.00–14.30 CET
Synergy Audit online workshop event​
On the Synergy Audit workshop event you will have the chance to practice on how to work effectively and strategically with integration of environmental management work and audits. In the workshop you will hear more about environmental management and circular economy. You will be able to practice on how to apply one or more of the UN 17 Sustainability Goals into the management of your organisation.
We are very happy to invite organizations from all over the world! You do not need any previous knowledge within the environmental field to participate the event. Your hosts at the online event will be One Planet from Sweden and Ecofellows Ltd. from Finland. The event is free of charge, but we have only a limited number of places.
Synergy Audit E-learning Tool
Free of charge method that innovates environmental audit implementation
Synergy Audit tools are designed to address today's challenges through methods for practical implementation in organizations by focusing on the Paris Agreement, the United Nations' 17 SDGs, waste, resources, and a holistic understanding of the circular economy. E-learning tool helps to understand how relevant issues can be tackled and integrated practically into the actual everyday processes of an organisation and generate an impact. Synergy Audit mediates knowledge and examples in inspiring ways, for example through a simulation game. It provides learning in a fun way. The outcomes for companies and organisations can be many, such as legal and regulatory compliance, resource savings, economic savings, and the ability to prepare for environmental certification, such as EMAS or ISO 14001.
Synergy Audit has been designed to provide: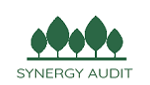 One Planet Ltd.
Eleonora Bru, Head of OnePlanet
Eleonora Bru is head of One Planet, a NGO based in Sweden that works on the elaboration and dissemination of tools to reduce negative climate and environmental impacts through an interdisciplinary method in collaboration with multidisciplinary organizations on a global scale and for global benefit. One Planet is the project leading organisation within the Synergy Audit ERASMUS+ project.
EcoFellows Ltd.
Suvi Holm, CEO of EcoFellows Ltd.
Suvi Holm is the CEO of EcoFellows Ltd, a non-profit company based in Finland that works on local, regional, national and international level promoting sustainable development. EcoFellows is a partner within the Synergy Audit ERASMUS+ project.
Valssipadonraitti 3
33100 Tampere
(weekdays from 8 a.m. to 4 p.m.)